The Best of New Zealand Cruise



Ponant are offering Kiwis a range of special discounts, these are limited so will go quickly

PRE REGISTER NOW!


First time Ponant Guests receive an AUD$400pp discount on their cruise fare


Ponant past guests receive Doubled Discounts


No Single Supplements


10% discount required with full payment 30 days prior to departure


Full refund or Future Cruise Credit if cruise is cancelled by Ponant (travel agent cancellation fees may apply)
Contact now to discuss and pre-register for these incredible offers as they will not last long
Dunedin - Auckland | 10 days/9 nights | Departs 12 Jan 2021 aboard Le Lapérouse
On this voyage, PONANT invites you to discover New Zealand's multitude of natural treasures. Set sail aboard Le Lapérouse for a 10-day voyage from Dunedin to Auckland. Starting in New Zealand's south-west, Le Lapérouse will sail along the coast of the South Island into the heart of Fiordland National Park with landscapes shaped by successive glaciations. You will explore Dusky Sound, Doubtful Sound and the world-renowned Milford Sound − three fiords bordered by majestic cliffs.
Discover the quaint coastal town of Picton, a must-see entry point to the South Island and an opportunity to explore the breathtaking Marlborough Sounds. You will then sail on to Wellington, New Zealand's capital. This ancient site of the Māori people, as demonstrated by the Te Papa Tongarewa Museum, perfectly combines local traditions and bustling nightlife. As you sail along the east coast of New Zealand you will have the opportunity to explore the rich Māori history of Napier before visiting Gisborne, a town surrounded by fertile hills and long, wild beaches.
From Tauranga, you will be able to explore many treasures: volcanoes, hot springs, geysers, rivers, gorges, and lakes that range in colour from deep blue to orange. Surrounded by the blue waters of the Pacific, the twin islands of New Zealand are the promise of an incredible mosaic of contrasting panoramas.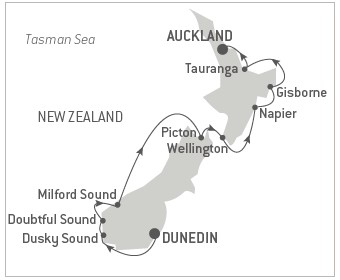 Cruise Highlights:



Discover sublime New Zealand landscapes with exceptional diversity


Sail through New Zealand's Fiordland National Park, a UNESCO World Heritage Area


Discover glacial fiords 100,000 years in the making


Call at Picton, located in the Marlborough region, famous for its vineyards and its submerged valleys


In Wellington, visit the Te Papa Tongarewa Museum


Travel alongside a lecturer passionate about New Zealand history


Gain an insight into the history and the diversity of flora and fauna from your expert expedition team on board and whilst exploring by Zodiac®.


The Best of New Zealand Itinerary

Day 1. Dunedin. Embarkation
Dunedin is New Zealand's oldest city and is often referred to as the Edinburgh of New Zealand. The city contains some of the best preserved Victorian and Edwardian architecture in the Southern Hemisphere. The Silverpeaks hinterland to the North West provides a picturesque backdrop and The Otago Peninsula, has internationally renowned wildlife reserves. The ship will be alongside the inner city wharf in Dunedin.

Day 2. Dusky Sound & Doubtful Sound, New Zealand
One of the most remote fiords in the New Zealand's South West World Heritage Area, Dusky Sound was named by Captain James Cook in 1773. Dusky Sound is rich in flora and fauna, New Zealand Fur Seals and one of the world's rarest penguins – the Fiordland Crested Penguin – can be seen on the small islets at the entrance to the fiord. Referred to as the 'Sound of Silence', there is a secluded serenity that surrounds Doubtful Sound in contrast with the better-known Milford Sound. Doubtful Sound is the deepest of the fiords with a maximum depth of 421 m. It contains three distinct 'arms' and several outstanding waterfalls in the area from Deep Cove to the open ocean. Your ship will spend time navigating around Secretary Island through both Thompson and Doubtful. You can enjoy the spectacular scenery from the outer decks of the ship as you sail through the fiords. If weather permits, you may have the opportunity to explore the fiord on a Zodiac® excursion.

Day 3. Milford Sound, New Zealand
Arguably New Zealand's best-known destination and described by Rudyard Kipling as the 'eighth wonder of the world', Milford Sound is a place of dramatic beauty. Its vertiginous peaks rise from the dark waters of the sound creating a spectacular backdrop that captivates even the most seasoned of travellers. You will be able to view the spectacular scenery from the outer decks of your ship. If weather permits, you might have the opportunity to explore the fiord on a Zodiac® excursion.

Day 4. At Sea

Day 5. Picton, New Zealand
A must-see entry point to the South Island, Picton is a little coastal town girded by gentle hills, located on the south side of the Queen Charlotte inlet. You can also decide to get some height above sea level, and walk in the surrounding areas. Picton is above all an opportunity to explore the unique Marlborough Sounds. The interweaving of submerged valleys in this area, has created numerous navigable routes, which are among the most beautiful natural wonders of New Zealand.

Day 6. Wellington, New Zealand
Crowned with gentle green hills, Wellington Harbour is located in the far south of the North Island. This city offers a charming mix of traditional and modern cultures, bestowing on the New Zealand capital, a unique atmosphere, both friendly and avant-guard. Where some sites, like the large National Te Papa Tongarewa Museum, reflect the city's Māori past, others, like the many cafés and restaurants, affirm the inhabitants' incredible lust for life.

Day 7. Napier, New Zealand
On the east coast of the North Island, south of Hawke's Bay, you'll find Napier. With its pure lines mixed with traditional Māori designs, the singular New Zealand character of this city will intrigue you. You'll discover all this extraordinary architectural heritage as you take a stroll through the city. Famous for its vineyards, wine lovers will be able to taste some of the best wines from the region.

Day 8. Gisborne, New Zealand
Gisborne, called "Gizzy" by the locals and "Teoneroa" by the Māori, is located to the north of a large bay surrounded by fertile hills and long, wild beaches that attract walkers and surfers. In Ngatapa, a few kilometres north of the city, the Eastwoodhill Arboretum stretches out over more than 320 acres and is home to magnificent exotic and native plants. In the city, you can learn about Māori culture and the local history at the Tairawhiti Museum or enjoy some of the products of this rich farming region, renowned in particular for its Chardonnay.

Day 9. Tauranga, New Zealand
Tauranga stretches the length of the Bay of Plenty, sheltered from the ocean by the island of Matakana. This coastal city boasts a flourishing economy thanks to its port, and is a pleasant and pretty town with a peaceful, relaxed feel. Travel on to the town of Rotorua to visit the Wai-O-Tapu Thermal Wonderland: a fantastic opportunity to experience an absolutely exceptional geothermal phenomenon.

Day 10. Auckland, New Zealand. Disembarkation
Auckland is New Zealand's largest, most populated and busiest city. Located on an isthmus linking the peninsula of Northland to the expansive North Island, it seems to float between land and sea. Surrounded by dormant volcanoes such as Mount Eden, Auckland is noted for its abundant nature and magnificent black-sand beaches. A blend of Māori, European and Asian cultures give the city a vibrant atmosphere.

Ponant Conditions : About their discounts
1)Ponant Bonus discount subject to change based on availability. 2) Welcome Offer: AUD$800 discount is per stateroom based on double occupancy and only valid for guests travelling on their first PONANT cruise. This offer is based on availability, cannot be combined with other special offers unless specified and may be withdrawn at any time, without prior notice. 3) PONANT past guests and PONANT Yacht Club Members receive doubled discount benefits – see your tier eligibility for more information. This discount can only be combined with the PONANT Bonus discount, the discount applied to onboard cruise sales, the Referral Program offer, the Single Traveller offer and with the consecutive cruises discount. This offer is based on availability and may be withdrawn at any time, without prior notice. 4) "No Single Supplement" means there is no additional cost when single travellers are travelling on their own in a double occupancy stateroom. Offer is valid only on selected cruises and is available on a limited number of staterooms and according to stateroom category. It is yield managed and can change at any time without notice. Once these staterooms are sold out, surcharges will apply. 5) Terms and conditions apply. Discount on the PONANT Bonus price at the time of booking. This offer is subject to availability, cannot be applied retroactively and may be altered or withdrawn without prior notice based on the cruise availability.
Our Cruise Conditions:
1)These Cruises are still subject to NZ Govt approval. 2) Pre registration does not guarantee discounts or confirmation of specific cabins , this is subject to availability by Ponant and will be allocated on a first come ,first served basis. 3) Our World Booking conditions apply please ensure these have been viewed and understood. www.ourpacific.co.nz/our-pacific/our-booking-conditions.aspx.